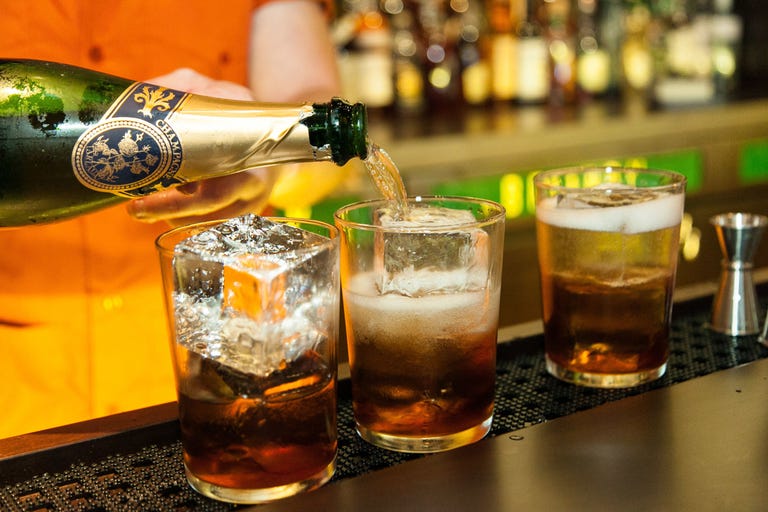 A Cuban-inspired bar in New York City was just named the best new cocktail bar in America.
BlackTail, which is designed to mimic the decadent American bars in Cuba during Prohibition, was crowned "Best New American Cocktail Bar" at the Tales of the Cocktail festival in New Orleans.
"We are proud and humbled to win the Best New American Cocktail Bar Spirited Award. We dedicate this win to the everyday people of Cuba who inspire us with their resilience, grace, and high spirits," says Jack McGarry, managing partner at BlackTail.

The bar's name comes from the lavish seaplanes (whose tail ends were painted black) that ferried "dry" (and thirsty) Americans down to the "wet" island during Prohibition for liquid libations in the sun. It opened at New York Harbor's historic Pier A in 2016.
One of the drinks on its menu, dubbed the Rum & Cola, is definitely decadent. As Grub Street first pointed out, the typical frat house drink is elevated through the addition of champagne, Fernet Branca, and homemade bitters. In fact, it's the champagne that gives this drink its carbonation, since it's made with cola syrup instead of Coca-Cola.
Here's the recipe:
Rum & Cola
1 Dash Orinoco Bitters
1/2 Tsp Fernet
.75 oz Cola Syrup
1 oz Bacardi facundo NEO
4 oz Champagne
Method: Built
Glassware: Rocks & Big Rock
Garnish: Lemon Twist