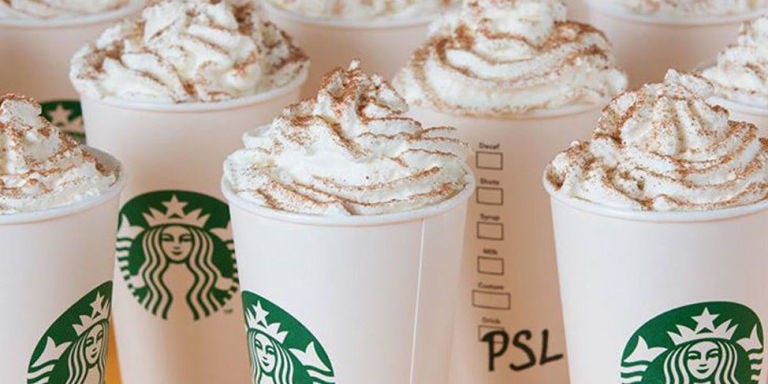 Forget changing leaves, chilly temperatures or your frattiest guy friend putting his white jeans in hibernation—these days, nothing ushers in fall quite like the Pumpkin Spice Latte's return to cafe menus nationwide. The beloved drink's at the forefront of the still-going-strong, pumpkin-flavored everything trend (which now stretches from cereal to salad).
Before you take your first sip of the season, here's what you need to know.
1. IT'S ABOUT AS CARB-LOADED AS EATING A BAGEL.
Thomas' everything bagel clocks in at 53 grams of carbs per serving, which is about as many carbs as you'd find in a large, whole milk, no-whip pumpkin latte at most major chains. (In fact, a Pumpkin Ginger Latte from Caribou Coffee has more than twice as many carbs, clocking in at 127 grams and 710 calories, according to FOX News.)
2. IF YOU'RE ON A LOW-SUGAR DIET, BACK AWAY FROM THE LATTE. NOW.
Variations of the pumpkin latte and PSL range from 47 grams to 116 grams of sugar per large serving—well above the American Heart Association's recommended 24 grams of added sugar per day. While FOX News's data uses Starbucks' old recipe for the PSL—before it contained pumpkin puree—even updated info lists the drink as having 49 grams of sugar. And that's for a nonfat, grande-sized latte.
The challenge is knowing how many grams of sugar are added in each drink, since nutrition labels cluster naturally occurring and added ones under the blanket category of just plain "sugar." At this point, the American Heart Association recommends checking the ingredients listing for sucrose, maltose, honey, cane sugar, high fructose corn syrup, molasses, syrup, corn sweetener or fruit juice concentrates.
3. DUNKIN' IS USHERING IN FALL FIRST (SO FAR).
While Starbucks hasn't officially announced the date its PSL hits stores—not yet, anyway—Peet's Coffee, McDonald's and Dunkin' Donuts have been quick to release theirs. Dunkin's the first to bring back the drink, releasing its fall menu in stores on Aug. 29, while the Golden Arches went with Aug. 30, and Peet's pumpkin latte will roll out a day later, on the 31st.
If history is any indication, Starbucks will wait until after Labor Day to bring back the PSL. Though who knows, the drink has reached a level of fame that the 'Bucks could pull a Beyoncé and quietly drop it in stores unannounced. (Not likely, but hey, @TheRealPSL has just as much sass as the former Sasha Fierce.)
4. IT'S THE MOST POPULAR SEASONAL DRINK THE 'BUCKS HAS EVER SOLD.
The PSL has such a cult following that 108,000 people follow the drink—yes, the drink—on Twitter, waiting for clues to its return. It even had a secret Orange Sleeve Society last year, and to this day, it remains the siren-logoed store's best-selling seasonal drink of all time. More than 200 million have been sold, according to a representative for the brand.
5. STARBUCKS USED PUMPKIN PIE TO CREATE THE ORIGINAL PSL.
The next time you complain about your job, consider how rough the recipe developers at Starbucks have it: To create the very first pumpkin spice latte, the product development team ate slices of pumpkin pie while sipping espresso to figure out how to blend the two flavors together, without one overpowering the other. It took three months of tasting and re-tasting drinks until they settled on The Pumpkin Spice Latte—a recipe that hadn't changed until last year (more on that below).
6. NOT EVERY PSL CONTAINS REAL PUMPKIN.
Just because "pumpkin spice" is in the name doesn't mean the gourd's actually used to make the drink. In fact, it wasn't until last year that Starbucks reconfigured its PSL to include it—previously, the pumpkin spice sauce was largely autumnal seasonings.
If drinking a latte that doesn't contain real pumpkin puree makes you feel like you're living a lie, ask to see the ingredients listing before ordering (or Google it). Sometimes, pumpkin spice simply refers to a blend of cinnamon, nutmeg, ginger and cloves, and the drink's golden hue can be the result of caramel coloring. As more brands move away from using artificial colors and flavors, expect to see more of the real thing.
7. IT COULD MAKE YOU SPEND MORE MONEY.
People tend to spend a $1.14 more in stores when they're ordering a Pumpkin Spice Latte, according to a study by the NPD Group. The organization analyzed 35,000 receipts, finding that buying the latte was a true #treatyoself moment—many people also splurged on something to eat with it, ratcheting up their bill a bit more than usual.
8. THE DRINK *COULD* HIT GROCERY STORES BEFORE CAFES THIS YEAR.
Right now, this is all a matter of timing: Starbucks hasn't revealed the official release date of the Pumpkin Spice Latte, but a spokesperson confirmed its line of PS-flavored products sold in grocery stores (including its bottled Frappuccinos) would be in stores by September. So, depending on when the 'Bucks actually releases the drink, you could—theoretically—find it in your local Kroger or Target before you can ask your barista to whip one up.
9. PEOPLE CRAVE PUMPKIN THE MOST ON ALL HALLOWS EVE.
For three years running, more people have downed pumpkin-y treats (including PSLs) on Oct. 31 than any other day of the year, according to data from MyFitnessPal. That's probably because Halloween acts as a trigger, making you crave a festive drank to go with your mood.
10. THIS MAN IS THE GODFATHER OF THE PSL.
Twelve years ago, when Starbucks's director of espresso, Peter Dukes, was a project manager, he was given a task: Create a pumpkin-y latte to round out the brand's fall seasonal drinks. Duke's team decorated the "Liquid Lab," an R&D kitchen at Starbucks's Seattle HQ, with fall decorations and brought in the aforementioned pumpkin pies, testing what was almost called the "Fall Harvest Latte," before they settled on the name (and acronym) you know today.
"Nobody knew back then what it would grow to be," Dukes said in 2014. "It's taken on a life of its own."
11. KNOWING WHEN THE PSL HITS STORES *COULD* MAKE YOU SEEM COOLER.
There's a certain social currency in being that in-the-know friend; the one who tips other people off to what's trending and what's coming back, Invisible Influence author and Wharton marketing professor Jonah Berger told us last fall. Even though Pumpkin Spice Lattes have become lampooned as the "it" drink for "Basic B*tches" everywhere (you know, those girls who like universally likable things, which has somehow been contorted into an insult), knowing when the latte returns before anyone else does could earn you bragging rights—at least in some circles.
Of course, it has reached such a mainstream level of ubiquity that you could argue it's about to go the way of all guilty pleasures, like watching Grey's Anatomy after season 3 or listening to Creed albums: Something you indulge in secretly, out of concern people will judge you for loving a drink that's often compared to a Yankee Candle.
Our take? You do you. Drink—or don't—proudly.